Some of us need background noise to help us get to sleep or sleep better through the night. Sound machines are good at generating background noise, which can either be white, pink, brown, or other soothing and relaxing sounds. Fans can also make white noise sound. White noise-producing fans perform dual purposes by keeping your room cool and still generating white noise. In this post, we review the best white noise fans you can buy.
[sta_anchor id="top-10-white-noise-fans"]Our Top 10 White Noise Fans[/sta_anchor]
[sta_anchor id="best-white-noise-fans-reviewed"]Best White Noise Fans Reviewed[/sta_anchor]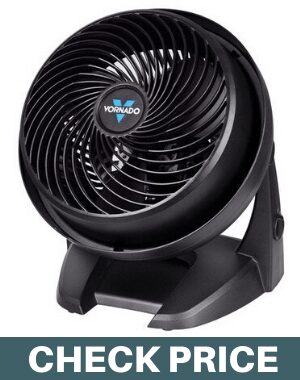 Fan Design: Desk/Floor
Oscillating: No
Remote Enabled: No
The Vornado 630 Medium Air Circulator is one of the most powerful fans you can get for your home and still enjoy some quality white noise at a very affordable price.
The Vornado 630 is not your ordinary household fan. It is an air circulator. This fan is designed to push large amounts of air around a room better than even an oscillating fan. It has a very minimalistic design and can be placed on a desk or sit on the floor. As long as this fan's placement is not obstructed, it does not matter where it is located to cool down a room.
As far as background noise is concerned, the 630 generates enough white noise. For someone who likes to sleep with a little background noise, you will love the Vornado 630. The Vornado 630 has three-speed settings that control the fan. The lowest speed setting is a little quiet and is good when you want a little white noise. However, if you are looking to drown out other sounds in a room, the second, and third-speed settings give a nice white noise hum.
The Vornado 630 is a very minimalistic fan and lacks features like remote control or a timer. However, it is very to use, and the speed settings are very accessible on the side. You can also adjust the fan's head and change the direction of airflow.
Overall, if you want more than a white noise fan, the Vornado 630 is your best pick. It creates a very powerful vortex action that can cool down a room very fast or circulate warm air around. The white generated is also of good quality, and you can increase the volume by dialing up the speed.
See the Vornado 630 Air Circulator Fan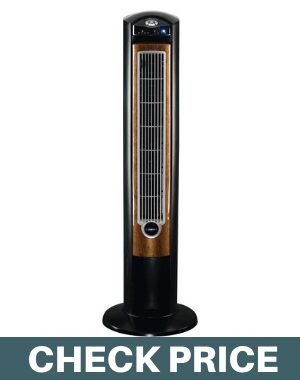 Fan Design: Tower
Oscillating: Yes
Remote Enabled: Yes
The Lasko Blackwood T42950 is a tower fan. It has a tall and sleek design that allows it to be used in where there is limited space and if you would like to blow air over obstacles. It is a great fan for the bedroom as it can blow air over the bed without much hassle. The fan is made from a combination of hard plastic, metal, and wood features on the front panel of the T42950.
Depending on the speed setting of the fan, you can get some gentle white noise for sleeping. For the first speed, the Blackwood T42950 is very quiet and would be good for those who prefer some quiet space at times. The second and third-speed settings give out some nice white noise good for sleeping.
The Lasko Blackwood T42950 comes with a ton of features under its belt. First, you get an ionizer that helps in cleaning the air in your home. As air passes through the fan, the ionizer expels negative ions that bond to indoor pollutants and fall, thus removing them from the air. Other than an air ionizer, the fans come with a built-in timer and remote control.
The Blackwood T42950 also oscillates, and the best of all the vents can be adjusted to blow air upwards. This helps blow air efficiently over obstacles and is a great feature for a bedroom fan.
Overall, the Lasko Blackwood T42950 comes with a ton of features for what you pay. The different fan speeds are great for quiet sleeping or those looking for some background noise in the form of white noise. While the airflow is not strong it is good for a small room or in the bedroom.
See the Lasko T42950 Blackwood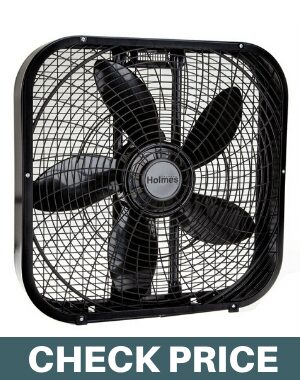 Fan Design: Box
Oscillating: No
Remote Enabled: No
Box fans are the most considered option by sleepers for white noise because they are the loudest among other fans. The Holmes HBF2010AWM is such a fan, and it does generate a good amount of white noise.
The design and build quality of the fan is not the best. The fan is mostly made of plastic and metal that feel cheap. The design of the fan is very minimalistic as you would expect from a box fan. The fan is also very light and can easily topple over with very little force. A better and heavier base could have been welcomed.
Other than the shortcomings in the design and build quality of the Holmes HBF2010AWM, this fan does its job well. It moves a lot of air and, in return, also gives out white noise. It has three-speed settings, and even in the first setting, you can feel it move air around and with a good amount of background white noise.
The Holmes HBF2010AWM comes with other features like a detachable cable, a removable grill for easy cleaning of the fan blades, and that pretty much what you get. The speed knob is at the center on the back of the, which is quite hard to reach and adjust at times. It would have been better to have them on top or better yet include a remote control.
The redeeming aspects of the Holmes HBF2010AWM are its ability to move a lot of air around, the cost, and most importantly the background white noise. The design and build are not the best and could be improved. However, considering you are getting this fan for background white noise, you cannot go wrong.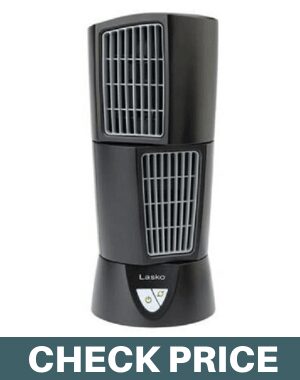 Fan Design: Desktop
Oscillating: Yes
Remote Enabled: No
If you are searching for a small portable fan for your bedroom, the Lasko 4916 should be your best pick. The Lasko 4916 has a space-saving design and can sit on the bedside desk, table, or dresser to offer some nice soothing white noise.
For the design and build, the Lasko 4916 is a small and very solid built fan. At just 14 inches tall, it is also very portable and you can move it around your home easy to enjoy background white noise. The fan is divided into three parts. The two top parts oscillate and can be adjusted at different angles to blow air in different directions.
The Lasko 4916 is a relatively quiet fan when running on its first speed setting, The second-speed setting is a little louder, but if you need some background noise, the third setting, which is the highest setting, it does provide good white perfect for the intended use.
The fan is very easy to control and features a mechanical two-button switch, one to power it on and the other to oscillate the head. The split fan and oscillation features are much welcome and spread the airflow over a wide area. When rotating, the fan might make some noise as the plastics pieces rub together. Applying a small amount of lubricant does great in quieting the noise.
Overall, the Lasko 4916 desktop fan is a good portable white noise fan that can sit on your bedroom desk. You can also buy it for your office desk or as a portable fan to travel around with it. It has a decent airflow output and works well in a small room or as a personal fan.
See the Lasko 4916 Desktop Fan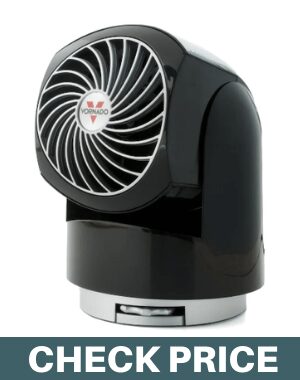 Fan Design: Desk
Oscillating: No
Remote Enabled: No
Vornado is widely known for its whole-house air circulators like our top model, the Vornado 630. The Vornado Flippi V6 is a small personal air circulator fan good for moving air around you. For someone who is also looking for a white noise fan, this is also a solid portable choice.
The Vornado Flippi V6 is a great little fan that can sit on the bedside table or your office desk. The small and compact size means it takes even less space on your desk. The fan's build quality and overall construction seems also very good and should last long. The fans come with rubber feet to keep it stable and avoid slipping on a desk.
The Flippi V6 does not move a lot of air. However, you also do not need to be in front of the fan to get cool. It creates a nice breeze to help during hot flashes or those sweaty nights. The fan comes with two-speed settings. The lower speed is good for a light breeze, and it is also relatively quiet. The highest speed gives out a nice level of white noise you can use to relax or help you sleep.
The Flippi V6, unlike the Lasko 4916, does not oscillate, but the adjustability and positioning of the fan are good. The base can rotate, and the head can be adjusted for a perfect position. The controls at the bottom are set up like a wheel, which makes it hard to adjust the settings of the fan without holding it down.
The Vornado Flippi V6 looks cool and has good airflow. The only gripe with the fan would be the control. Push buttons would have been better than the wheel adjusting mechanism. All in all, if you're looking for a portable fan that looks good and you can carry around for some nice white noise, this is it.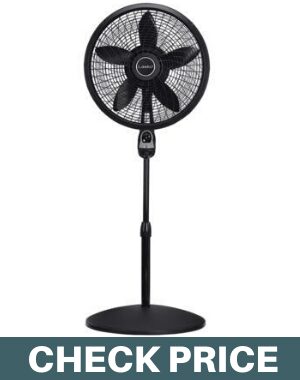 Fan Design: Pedestal
Oscillating: Yes
Remote Enabled: Yes
Pedestal fans or standing fans are a very common type of fan. The Lasko 1843 18″ pedestal fan is a great fan for background white noise and comes with several great features.
First, the Lasko 1843 is very easy to assemble with no tools required, and the instructions are pretty straightforward. The build of the fan is good, and the fan is very sturdy. The fan is mostly made out of plastic, but some important parts feature metal. The base of the fan is bigger than what we expected but does a good job of supporting the fan.
If you're looking for some white noise, the third setting of the Lasko 1843 has some for you. The fan gives off a very relaxing white noise with a gentle hun to drown out other sounds. For those looking for a quiet sleeping fan, the Lasko 1843 is also very quiet if you dial down the speed.
The fan comes with a ton of features that makes it very user friendly. The height of the fan is adjustable and can reach a height of up to 55″. Oscillation is also a good feature to have in case you want to move air around the room. The head also tilts, and this is a great feature is you're buying this fan purely for white noise. You can have it fave upwards so that it is not blowing air directly at you. The fan also comes with a remote control that controls the timer, power, and speed settings.
Attaching the front grill can be difficult, so be sure to read the instructions to watch some youtube guy putting it together. Other than that, this Lasko pedestal fan is a great addition to provide white noise and can also double up as a quiet bedroom fan.
See the Lasko 1843 18″ Pedestal Fan
[sta_anchor id="white-noise-fan-buying-guide"]White Noise Fan Buying Guide[/sta_anchor]
[sta_anchor id="what-is-white-noise"]What is White Noise?[/sta_anchor]
White noise is the sound produced by combining different sound frequencies at equal intensity. It draws its name from white light. White light is a mixture of different colors of light, and this can be proven by using a prism to separate light back to the individual colors. The same way, white noise is a combination of different sound frequencies.
[sta_anchor id="how-fans-generate-white-noise"]How Fans Generate White Noise[/sta_anchor]
A fan produces a good approximation of white noise. Using a fan to sleep for most people is less about temperature and more about white noise. For light sleepers and those looking to drown out outside noise, a whirring fan, is a good companion.
Box fans are some of the sought after type of fan for white noise. They are loud, and in-effect give out a louder white noise sound. Many types of fans, as you see from our list, can generate white noise. As the fan blades create airflow, they end up producing white noise. The quality of white noise by a fan will depend on the power, speed, and the overall size of the fan.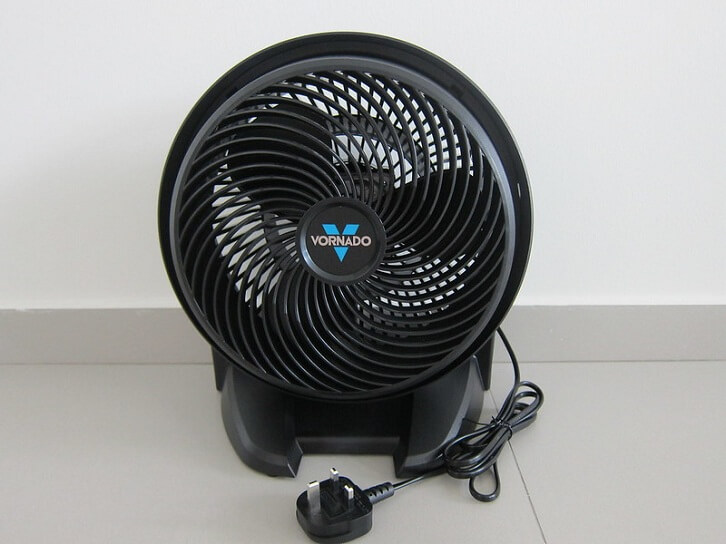 After testing different fans, powerful fans like the Vornado 630 Mid-Size Whole Room Air Circulator Fan, are good for generating white noise. You can also use loud fans to drown out the noise. Box fans are some of the loudest fans and work well in generating white noise. In this article, we have included two box fans that are both great and generate white noise.
[sta_anchor id="white-noise-machines"]White Noise Machines[/sta_anchor]
White noise machines produce white noise sound. There are several reasons to buy a white noise machine over a white noise fan. First, most white noise machines have a compact and portable design. You can carry them around when traveling or to the office to you drown other sounds.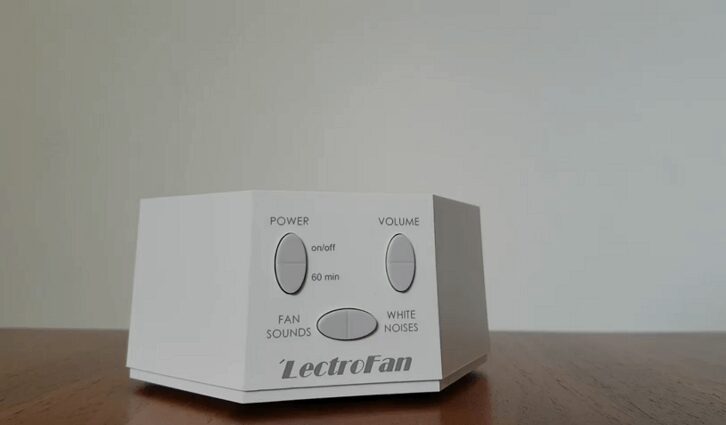 Most white noise machines will also include different sounds that you can choose from. Natural sounds, white noise, fans sounds, or gentle music, can all be included in a single white noise machine. This will give different options you can use and find the most calming one.
There are two different types of white noise machines. These are mechanical and digital ones. Mechanical white noise machines use a fan to generate white noise, while digital ones use pre-installed sounds. A digital white noise machine will sometimes allow you to download and play other sounds.
Read more about white noise machines.
[sta_anchor id="types-of-fans"]Types of Fans[/sta_anchor]
Different types of fans can generate background white noise. The type of fan you select will depend on your budget, needs, space available, or other preferences.
Floor fans come in simple designs often with the base and the fan itself. Floor fans are very powerful, and in-effect generate a lot of white noise. Sometimes, they might be more powerful and become a nuisance instead of helping. Before settling for a floor fan to help with white noise, consider the safety of your pets or children, the available space, and obstacles in the way of the fan if it will also double up as a cooling fan.
Tower fans are the slim and tall type of fan. This type is perfect for small and cramped spaces or to blow air over obstacles. Tower fans come with many features that a user can select, including ionizing abilities, remote, air purification, and a lot more. Tower fans are very quiet compared to most fan types and are good for bedroom use.
Box fans are a very versatile type of fan. They can sit on the floor, or fit into an open window or wall. They are also powerful and generate a lot of noise, which can be used as white noise.
Pedestal fans, also called standing fans, are height adjustable and can oscillate for better distribution of air around a room. They are also very quiet when working and are ideal for bedrooms and living rooms.
Portable desk fans are small fans that are perfect for cooling small spaces. They can be placed on desks, countertops, or other platforms. They are ideal for users who need a portable cooling mechanism. For white noise, portable desk fans generate just enough of it when used on a bedroom table/desk or nearby.
Back to Our Best White Noise Fan Picks