According to different studies and research, background sounds can induce sleep and improve sleep quality in people. Sound machines are recommended for sleep therapy to help individuals get better sleep. Whether it is white noise, pink noise, brown noise, natural or fan sounds, we have something for you. This list covers our best sound machines you can use for sleeping. Be sure to check out the buying guide below for an informative read.
[sta_anchor id="top-10-sleeping-sound-machines"]Our Top 10 Sound Sleep Machines[/sta_anchor]
[sta_anchor id="best-sound-machines"]The Best Sound Machines for Sleeping[/sta_anchor]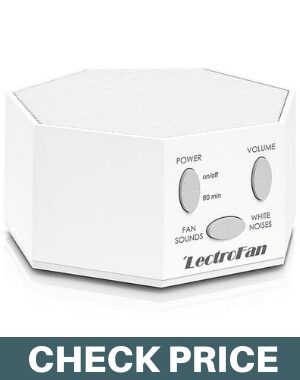 Adaptive Sound Technologies are a well-known company that focuses mainly on sound machines for sleeping. The LectroFan Classic is one of their top model and our best choice for a white noise machine.
The LectroFan Classic is small, unobtrusive, and very portable. Measuring just five inches wide and three inches tall, it can fit even on top of a crowded bedroom desk or cabinet top.
The design and overall build of the fan are also very good. The fan is very minimalistic and features only three buttons on the front: power and timer, volume, and fans sounds or white noise button. The speaker of the LectroFan Classic is top facing.
The LectroFan comes with a total of 20 sounds – 10 fan sounds and 10 white noise sounds. The sounds are easy to customize, non-repeating, and you can adjust the volume for personalized sound. According to Adaptive Sound Technologies, the LectroFan Classic comes with other sound variations including, pink and brown noise. However, the problem is you cannot tell which sound is playing. You have to circle the different sounds until you get one that sounds good.
The good news is that the LectroFan remembers the previous settings so, you do not have to worry about starting all over again. The sound machines also come with a 60-minute timer, and it can be powered via USB or AC.
If you are looking for a simple yet effective white noise machine, the LectroFan Classic is what you need.
2. Sound+Sleep – Wide Range of Sounds & Options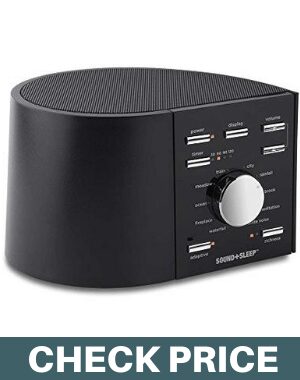 If you are looking for a versatile white noise machine that offers more than white noise, then the Sound+Sleep from Sound of Sleep is what you need. It is much expensive than most white noise machines, but it offers more than what you likely need. There is also the Sound+Sleep SE, which is a more advanced model of this sound machine.
The Sound+Sleep sound machine comes in black color and very solid construction. It is not the most compact option in this list, but it is lightweight enough to be portable. It also comes with a lot of buttons, but they are not too complicated to understand. The speaker, like the LectroFan Classic, faces upward.
A big rotary knob at the center of the unit lets you select from 10 sound options – meadow, train, city, rainfall, white noise, etc. With each selected sound, the Sound+Sleep machine also lets you add two richness options. So in total, you get 30 sound options. For example, when you select ocean sound, richness #1 will add some seagulls sounds, while richness #2 adds an occasional distant foghorn. The overall quality of sound is good.
Another great feature we like about the Sound+Sleep is the adaptive mode. When you turn on adaptive mode, the sound machine uses a microphone to listen to your environment and properly adjust the volume depending on the noise levels for a better masking effect. Though it is a good feature, it does not work quite well as we expected. The volume is always higher if there is noise.
Overall, there are different up to 30 different sounds you can choose from the Sound+Sleep to customize your sleeping experience. There are cheaper sound machines in the market. However, this is a good unit for those looking for versatility.
See the Sound+Sleep Sound Machine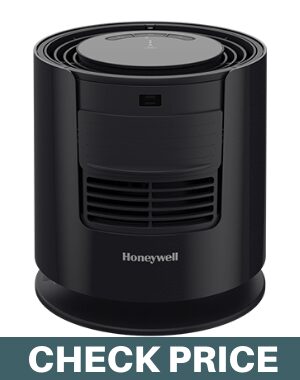 Honeywell is a well-known company that deals with mostly home appliances and the Dreamweaver Sleep Fan is not different. This sleep fan is a sound machine that also doubles up as a fan to create an optimum sleep environment.
The Honeywell Dreamweaver has a very different design, unlike most sound machines on this list. The Dreamweaver is a fan that generates pink noise to help a user sleep. The fan is cylindrical and has vents that distribute air around. The fan also oscillates to provide better airflow around. If you do not need air to blow around, the vents can be partially or completely be closed.
The Dreamweaver sleep fan comes with three-speed settings, and each setting gets louder just like a regular fan. We find the highest speed setting best for sleeping and also masking out other sounds. The Dreamweaver sleep fan is only capable of generating pink noise, a softer sound compared to white noise. Pink noise has been shown to improve memory and increase the quality of sleep.
To adjust the speed or power off the Dreamweaver sleep fan, you simply tap the top part of the fan. An indicator light will show the speed setting it is on. If you prefer total darkness, you have the option to turn off the lights. This sleep fan also includes an auto-off timer that you can set to 1, 2, 4, or 8 hours.
With the Honeywell Dreamweaver Sleep Fan, you get both a pink noise machine and a fan. It is easy to use and seems well constructed. If you're looking for a fan and sound machine combo, then you can try the Honeywell Dreamweaver.
See the Honeywell Dreamweaver Sleep Fan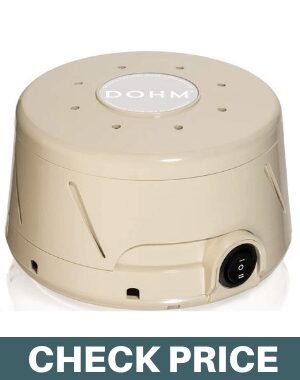 The Yogasleep Dohm classic is a very simple white noise machine. According to Yogasleep, the Dohm Classic is one of the first white noise machines to feature in the market since 1962. The Dohm classic has a very minimalistic design, much like the LectroFan, but simpler.
Out of the box, the Yogasleep Dohm classic sport a vintage Tan color. It is also available in white, black, grey, pink, and camo colors. The design looks unlike other sound machines in this list and features half-dome shape. The outer shell/body of the Dohm Classic can be twisted, which adjusts the volume of the white noise. The power button is the only control available on this sound machine and also doubles up as the speed switch.
The Dohm Classic, like the Honeywell Dreamweaver, uses an actual fan to generate white noise. The fan has two-speed settings you can choose from to customize the sound. Apart from the speed settings, a user can turn the top piece for further customization. Turning the top piece opens the vents for a louder white noise or decreases the vents for a quieter white noise level.
While different sound machines in this list will include multiple features such as timers, displays, or additional sounds, the Yogasleep Dohm Classic does not. It simply generates white noise to create a soothing and relaxing environment. Though it lacks additional features, it works great, so don't let that deter You from buying it.
Though it might seem a little limited for the price, the overall natural and good quality of white noise out of this machine is worth it. It is also a product of a reputable brand and has many positive reviews.
See the Yogasleep Dohm Classic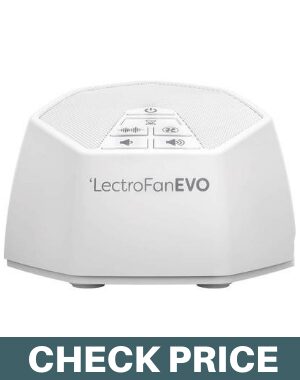 The LectroFan Evo is the new and improved sound machine from Adaptive Sound Technologies that improves on the popular LectroFan Classic, which features as our top choice. The LectroFan Evo not only capitalizes on the success but also improves on the design and adds new sounds to the mix.
The design of LectroFan Evo takes from the Classic but has been improved. The sound machine still has a heptagon shape, but it looks and feels more premium. The backside is raised to give the top speaker an angled view. The controls have also been moved to the top for improved ergonomics. It still features the same controls, but each function now has its button as opposed to the Classic, where two functions would share one button.
The sounds of the LectroFan Evo are just the same as the Classic, but you get two ocean sounds for a total of 22 sound choices. 10 fan sounds and 10 white noise sounds are included. In the variations of sounds included, Adaptive Sound Technologies points out there are white, pink, and brown noise available. However, like the Classic, you cannot individually select pink or brown noise. It would have been better to have this functionality.
One new feature we like about the Evo is the included 3.5mm audio input. You can finally connect your pillow speaker, headphone or earbuds, or any other device that uses a 3.5mm jack.
Though it comes as a better choice from the LetroFan Classic, the speaker sound is not as good and sounds quieter even at full volume. However, the 3.5mm port functionality and an improved design still make the LectroFan Evo a worthy upgrade.
[sta_anchor id="sound-machines-buying-guide"]Sleeping Sound Machines Buying Advice[/sta_anchor]
[sta_anchor id="types-of-sound-machines-for-sleeping"]Types of Sound Machines for Sleeping[/sta_anchor]
Sound machines for sleeping provide a background noise that can partially or fully mask noise when sleeping or relaxing. Different sounds can be generated by a sound machine to help a user sleep better. White noise, pink noise, brown noise, natural sounds, or other ambient, subtle sounds can all work for sound machines.
When choosing a sound machine, first consider the type of sound that will help you sleep better. A good start would be downloading an app first and listening if a particular sound is good before investing in a sound machine.
Another option is to buy a sound machine with several sound options. For example, the LectroFan Classic on our list has 20 sound options you can choose. It has white noise, pink noise, brown noise, and fan sounds. With several options, you can try each sound and find one that sounds good.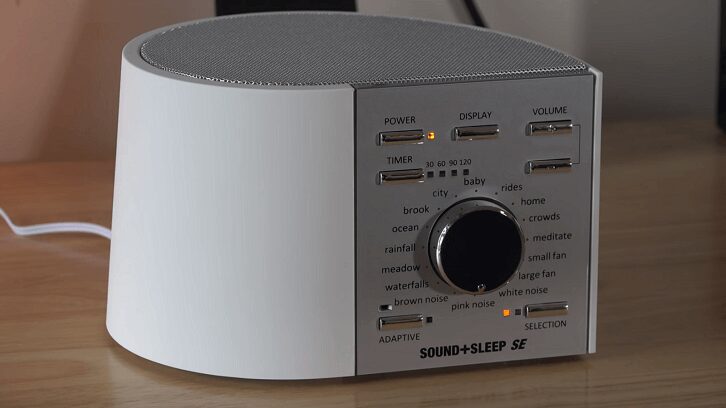 The Sound+Sleep SE that does not feature on our list is a good example that incorporates 64 sound options. Everything from nature sounds, fan sounds, white, pink & brown noise is available. You will, however, have to dig deeper into your pocket to get this sound machines.
If you already know what you want, white noise, pink noise, or natural sounds, getting a cheaper sound machine with your sound choice is good. The Honeywell Dreamweaver or Yogasleep Dohm sound machines are a good example of sound machines that only have one sound option.
[sta_anchor id="mechanical-vs-electronic-sound-machines"]Mechanical vs. Electronic Sound Machines[/sta_anchor]
Sound machines can either be mechanical or electronic devices.
Mechanical sound machines have an enclosed fan inside and a speed switch the device that generates continuous white, pink or brown sounds. The fan moves air through slots in the machine's casing to generate the desired sound. Mechanical sound machines are loved because the whirring fan gives a random sound that contains not loops like sound electronica or digital sound machines.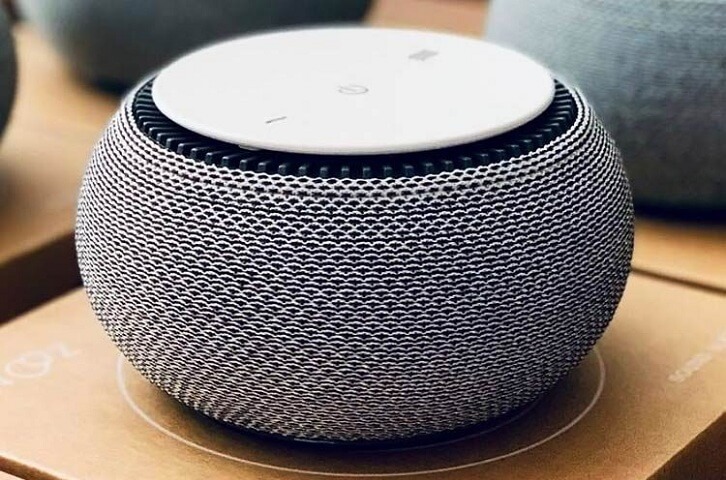 The Honeywell Dreamweaver Sleep Fan is a mechanical sound machine that also doubles up as a sleeping fan to move air around. The Yogasleep Dohm Classic and the SNOOZ White Noise Sound Machine also use a real fan to generate white noise.
Electronic sound machines produce sleeping sounds electronically. These sounds are recorded and saved to the sound machine. They can reproduce nature sounds, relaxing sounds, white, pink, and brown noise, and other sounds quite naturally and accurately.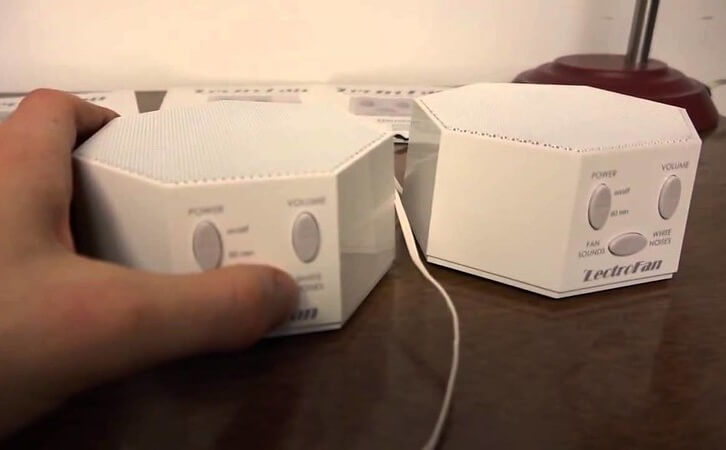 Our two top choices, the LectroFan Classic and Sound+Sleep Sound Machine both are electronic sound machines. The sound quality generated from these machines is of good quality and most importantly non-looping. This also applies to other electronic sound machines on this list.
[sta_anchor id="looping-vs-non-looping-sound"]Looping vs. Non-Looping Sound[/sta_anchor]
When selecting an electronic sound machine, it is better to always go for a non-looping sound machine. Non-looping means the sound does not replay after a while, or you will not hear a break in the sound.
A looping sound machine will keep your mind engaged and will not offer the benefits as a sleep aid. When your mind is engaged in the looping sound, it will be harder for you to get sleep.
Mechanical sound machines are best for non-looping sound. These sound machines have an actual fan that continuously generates sound.
[sta_anchor id="alternatives-to-sound-machines"]Alternatives to Sound Machines[/sta_anchor]
Fans
Fans are a good alternative to sound machines. If you sleep hot at night and require some cool air moving around, choosing a fan that generates white noise is the best choice. We have compiled a list of the best white noise fans you can buy.
Sound and Sleep Apps
Sound and sleep apps offer a cheaper alternative to listen to your preferred sound or compare different sounds. Using a smartphone, you can listen to sleeping sounds via earbuds or headphones. For a better option, you can buy a Bluetooth speaker and use it to stream your favorite sound for sleeping. The Bose SoundLink Color Bluetooth Speaker II and Anker Soundcore 2 Portable Bluetooth Speaker are both good options you can check out